If you want to take in drinking holes of bygone eras, this city has plenty to offer to those with a raging thirst. Head down surreptitious cobble-clad alleyways to find tiny pubs where playwrights, villains, and authors aplenty have put the world to rights. Any fan of historical settings complete with fancy wood panelling, real fires, ornate ceilings, and snug crannies will love this compass-led walk around some of London's most atmospheric pubs.
Ye Olde Mitre, EC1.

You'll be jostling for space in this tiny 1546 bar complete with its own ancient cherry tree (which history proclaims Elizabeth I danced around). Sited just off Hatton Garden, though a very hidden and unmarked alleyway, its enticingly easy to miss.

(Closed at weekends)

Ely Ct, Ely Pl, Holborn, London EC1N 6SJ

Nearest tube: Chancery Lane or Farringdon 
Ye Olde Cheese, EC4.

In the former haunt of journalists: Fleet Street, this pub's interior sprawls, turns and twists over four uneven. Narrow stairs lead to lower vaults, which predate the 17th-century upper. A roaring fire and lots of levels ensure you're blissfully cut off from phone signals. It is thought, because of some sexually explicit tiles recovered from its upper rooms, that it once operated as a brothel.

Fleet St, London EC4A 2BU

Nearest tube: City (train) or Blackfriars Tube. 
The Jerusalem Tavern, EC1

This really is a drinkers' pub with a higgledy-piggledy historic charm, it remains proudly off the beaten track. The Tavern has occupied several sites in the area since the 14th century and the current building dates from 1720, giving it its Georgian look. It offers a good selection of beers, including organic ones. Gets busy after 5 pm. (Closed on weekends).

Britton Street, Clerkenwell, EC1M

Nearest tube: Farringdon 
The Black Friar, EC4

This wedge-shaped building is busy for somewhere so tucked away. It's also very brightly light, but it does feature an incredibly extravagant religious-themed art nouveau interior. It was saved from demolition by poet John Betjeman, who later became the poet laureate (who also saved St Pancras Station).

74 Queen Victoria Street, EC4V 4EG

Nearest tube: Blackfriars 
Old Bank of England, EC4

Sits where the City of London meets Westminster. With high ornate ceilings, a cavernous interior with sumptuous Italianate golds and ruby-red drapes, the venue was once former home of Bank of England's Law Courts from 1888 to 1975, is lavish.

All that and it ever offers a gluten-free menu. (closed at weekends).

194 Fleet Street, EC4Y 1AF

Nearest tube: Chancery Lane or Holborn.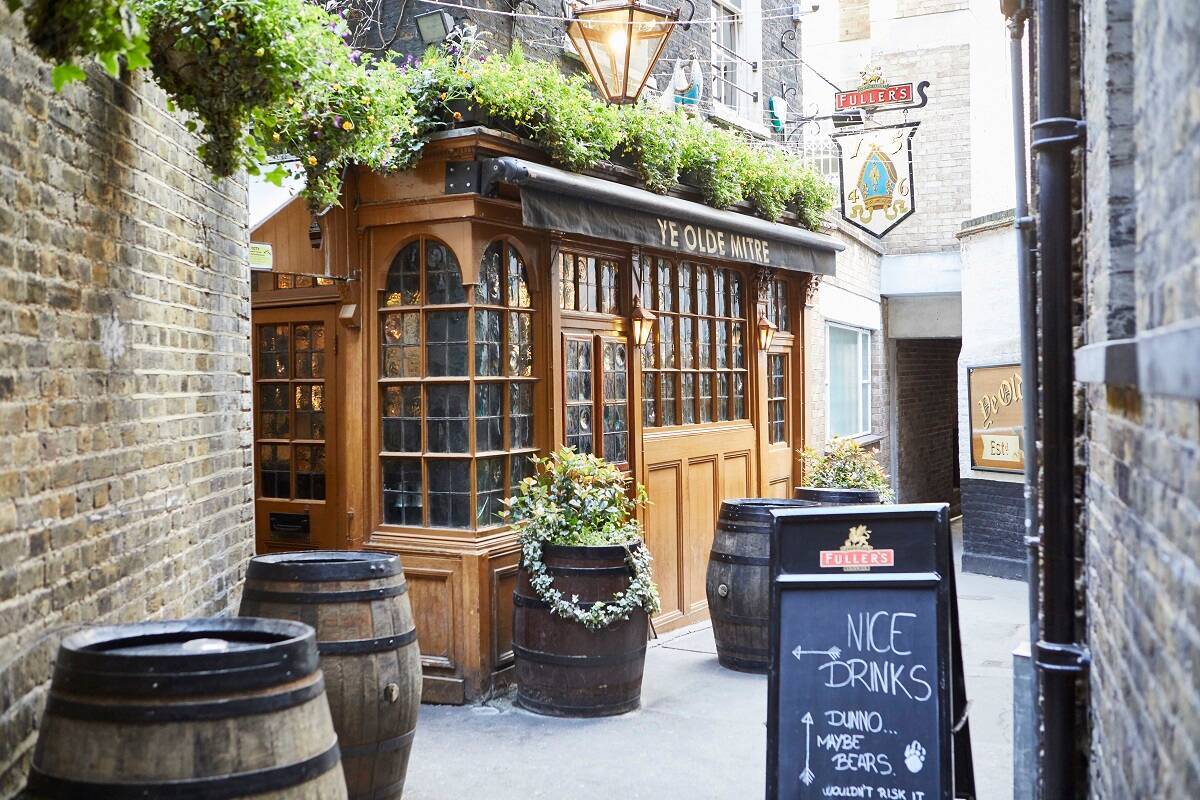 The Spaniards Inn, NW3

Come off Hampstead Heath (often known as London's green lungs) and dive into this 1585 pub. Opposite is the toll-house, built in 1710, is actually located in the borough of Camden, while the pub itself is in Barnet. It became a famous haunt for highwayman Dick Turpin, whose father had been a landlord. Dickens drunk here (where didn't he?) as well as Byron and Keats. Large heated garden and lots of IPAs on tap.

Spaniards Road, Hampstead, London, Greater London, NW3 7JJ

Nearest tube: Hampstead or Golders Green tubes (neither are near). 
The Pineapple, NW5

Tucked in the quiet back streets north of Kentish Town is a pub that's very much been part of the community's collective heart since it was built in 1868. It was saved from redevelopment in 2002 when the residents stepped and in to save it – within eight days it was listed with English Heritage.

With weathered wood and gleaming painted mirrors, carved mahogany, and gold lettering form the majesty of the bar area. Enjoy a pint of Pineapple Amber, or local drink like the N1 Pale Ale.

51 Leverton Street, London NW5 2NX

Nearest Tube: Tufnell Park 
Bull and Gate, NW5

This cavernous drinking hole comes complete with a huge restaurant and decadent Boulogne bar. It was a big player in the 1980's indie music, but its rebirth is well-healed and brought it up several notches.

The bar upstairs is a favourite: with hand-crafted cocktails, a fireplace, low tables, and a laid-back vibe. Slump into a siren-red chairs under decadent chandeliers.

The Bull & Gate, 389 Kentish Town Road, NW5 2TJ

Nearest tube: Well, actually it's a train station: Kentish Town 
The Flask, Highgate, N6

Perhaps the most well-known of north London pubs. Its name comes from the tradition of selling flasks from the pub which used to collect water from the springs around Highgate and nearby Hampstead Heath.

And like every historic pub in London – a good haunting or two helps, in this by a Spanish barmaid who hanged herself. Meanwhile, the Committee Room was allegedly the scene of one of the first-ever autopsies. Byron, Shelly and Keats have all said to be regulars.

77 Highgate W Hill, Highgate, London N6 6BU

Nearest tube: Highgate (10 min walk)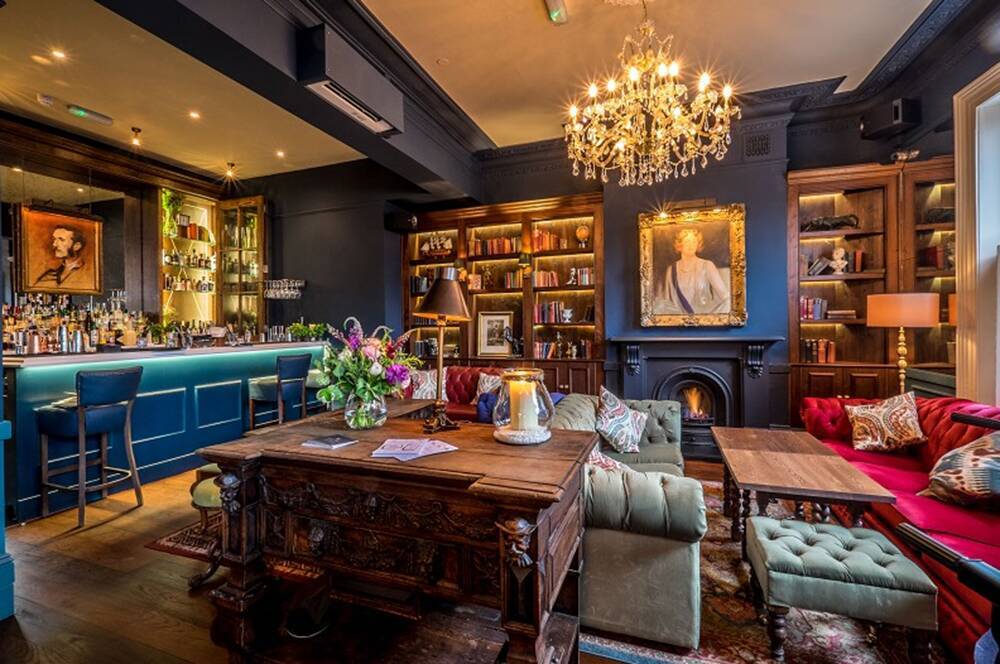 The George Inn, SE1

A hugely historic pub with luxurious charm. Although slightly out of the way for some, it's absolutely worth a detour. It is London's only surviving galleried coaching inn. It's now owned by the National Trust and some rooms have lovely dark panels with the main area a little overly modernised for some. Of course, it comes with its own ghost: Mrs. Murray, the former landlady. Food and drink are ok if not forgettable.

The George Inn Yard, 77 Borough High Street, SE1 1NH

Nearest tube: London Bridge or Borough. 
The Grenadier, SW1

Sited in the well-heeled Belgravia is this 1720s drinking den which was originally an officer's mess. Hidden within a cobbled street labelled 'private road', it's deliciously close yet out of sight of Hyde Park Corner. The ceiling is posted with signed dollar notes for 'Cedric', a grenadier who was supposedly beaten to death for cheating at cards. The notes are to help pay off his debts and appease his spirit.

18 Wilton Row, SW1X 7NR

Nearest tube: Hyde Park or Knightsbridge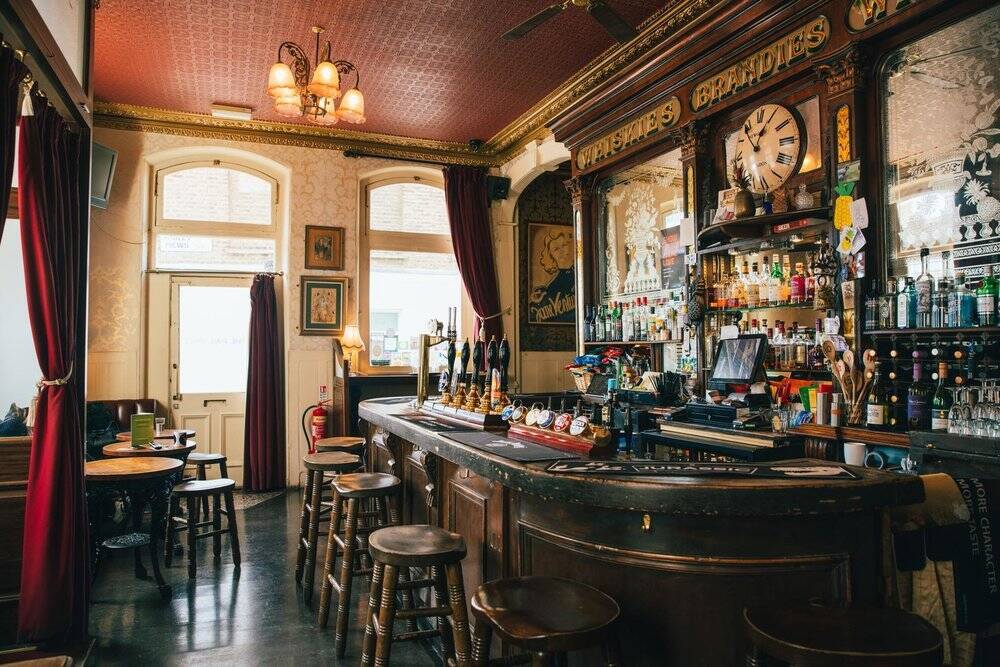 Churchill Arms, W8

Is a wonderful example of British eccentricity at its best. The whole exterior pub wall is dripping with blooms and plants, while the inside is crammed with quirky Churchill-type memorabilia, junk, bunting and portraits. It's a homely and delightful pub, and true treasure trove of good beers and decent Thai food enjoyed by tourists and locals alike.

19 Kensington Church Street, London, W8 7LN.

Nearest tube: Notting Hill Gate
The Lamb and Flag, WC2

Sequestered down an alleyway among the civilised buzz of Covent Garden is this constantly popular pub. History lovers will be drooling over this watering-hole dating back from Queen Elizabeth I's time with its wooden carved bar and brass beams. Covent Garden wasn't always so civilised: upstairs in this historic venue was known for bear-knuckle fighting.

33 Rose Street, London WC2E 9EB

Tube: Bond Street or by train it's Charring Cross
Old Star Tavern, WC2

Sits in colossal shadows of the Royal Courts of Justice, complete with an off-the-counter-charm rating that is only enhanced by its resident cat and fireplace.

It was once a portside pub – being next to the navigable river, the Fleet (now buried deep under London). You'll need a steady grip to make the vertiginous stairs to the one and only loo – but be thankful you weren't here 15 years ago – when there wasn't one! Does a great range in cask beers and bitters and decent wines, plus really good home-cooked food.

Carey Street, London, WC2A 2JB

Nearest tube: Chancery Lane or Holborn. 
Mr Fogg's Tavern, WC2N

In Covent Garden you'll find a pub themed around the protagonist of Jules Verne's novel 'Around the World in Eighty Days'. The pub is rammed to the rafters with trinkets and oddities, union flag, stuffed birds, and other eccentricities, but it's absolutely worth cramming yourself into this one. Sitting on the corner of New Row and St. Martin's Lane, it makes the perfect spot for a pre-theatre-drink.

Upstairs is a fancy gin parlour.

Nearest Tube: Leicester Square and Covent Garden

St Martin's Ln, Covent Garden, London WC2N 4EA
Cittie of Yorke, WC1V

Splendid back bar rather like a baronial hall with extraordinary extended counter, 1,000-gallon wine vats resting above the gantry, bulbous lights hang from a soaring raftered roof and intimate ornately carved booths are dotted along its east side. It has the fireplace, smaller comfortable panelled room with lots of little prints of York. Better still, it's cheap. What is not to like? (Closed on Sundays).

Nearest tube: Chancery Lane

High Holborn, London, WC1V 6BN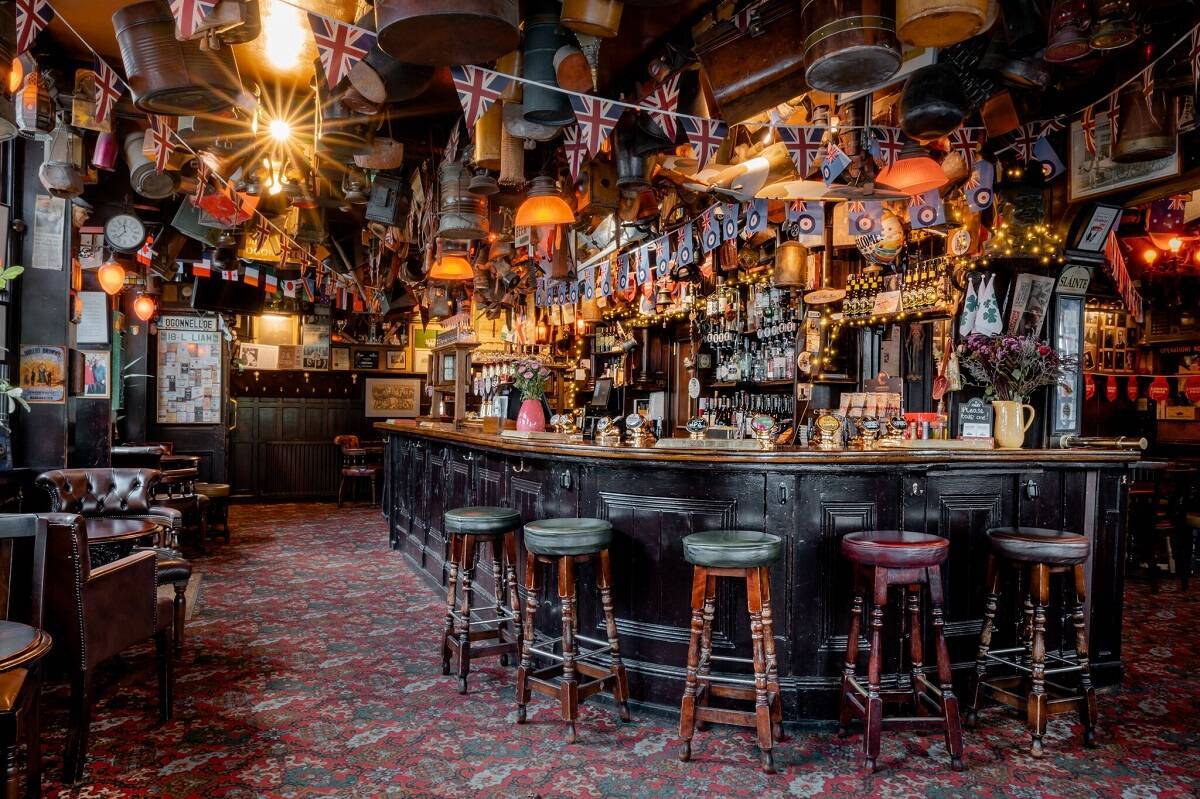 Become a member to join the conversation!
Become part of the world's leading travel & lifestyle community!